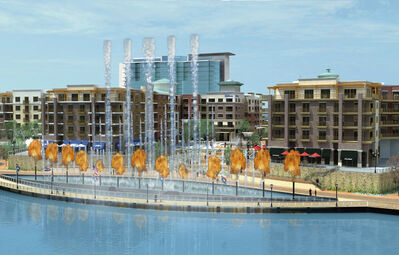 TANEYCOMO LANDING features a scenic boardwalk along the 1.5-mile Wickamee Riverfront. At the heart of the Landing is a vibrant town square terracing down to the $7.5 million spectacular water attraction that features the first-ever merging of water, fire, light and music. You will be amazed by the dazzling interplay of water Fountains shooting 120-foot geysers and fire cannons blasting, all choreographed to light and music.
The water and fire spectacle is a creation of internationally renowned Wet Design, the producers of world-class shows for Downtown Disney marketplace in ......, Universal City Walk in ....... and the Bellagio in .........
Ad blocker interference detected!
Wikia is a free-to-use site that makes money from advertising. We have a modified experience for viewers using ad blockers

Wikia is not accessible if you've made further modifications. Remove the custom ad blocker rule(s) and the page will load as expected.